CBSE Patrachar - Providing Flexibility in Education
CBSE Patrachar Admission is an educational scheme offered by CBSE, providing a second chance to individuals who couldn't complete their schooling through the regular system. Whether you had to discontinue your education due to financial constraints, personal reasons, or any other circumstances, CBSE Patrachar offers you an opportunity to continue your studies and obtain a recognised certification.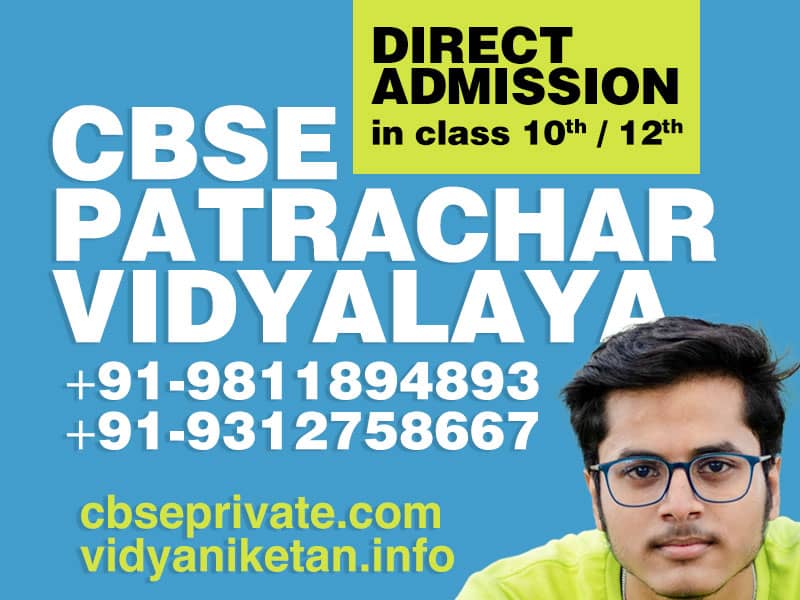 Table of Contents
CBSE Patrachar - Eligibility Criteria
To enroll in CBSE Patrachar, you need to meet certain eligibility criteria. The scheme is open to anyone who falls into the following categories:
Failed in Class 10th or Class 12th CBSE board examinations.
Discontinued regular schooling for any reason.
Private candidates who want to appear for CBSE examinations.
There is no upper age limit for CBSE Patrachar Admission, allowing individuals of any age to pursue their education and obtain a valuable certification.
CBSE Patrachar - Benefits
CBSE Patrachar offers several benefits to students who choose this alternative pathway for their education:
Flexibility in learning: Unlike regular schooling, CBSE Patrachar provides a flexible learning environment where students can study at their own pace and convenience. This is particularly beneficial for those who need to work or have other commitments.
Recognized certification: The certificate obtained through CBSE Patrachar is equivalent to the regular CBSE certificate. It holds the same weight and recognition, ensuring that CBSE Patrachar students are not at a disadvantage when it comes to further education or career opportunities.
Opportunities for higher education: CBSE Patrachar opens doors for higher education by providing a valid qualification for admission to colleges, universities, and vocational courses. Students can pursue their desired field of study without the limitations of not having completed formal schooling.
CBSE Patrachar - How to Apply ?
If you are interested in applying for CBSE Patrachar, here is an overview of the application process:
Registration process: Visit the official CBSE Patrachar website or the designated regional office to obtain the registration form. Fill in the required details, attach the necessary documents, and submit the form along with the registration fee.
Documents required: The typical documents required for CBSE Patrachar registration include proof of age (birth certificate or Aadhaar card), address proof, passport-sized photographs, and previous educational documents (if applicable).
Examination details: Once registered, you will receive information about the examination schedule, syllabus, and study materials. Prepare for the exams based on the prescribed syllabus and guidelines provided by CBSE Patrachar.
CBSE Patrachar - Join Coaching Classes at Vidya Niketan - Ramesh Nagar
Vidya Niketan provides the best coaching classes in Delhi for CBSE Patrachar candidates. In Vidya Niketan Study Center Special Coaching Classes, you can get excellent coaching with modern infrastructure, study materials, guides, notes, and previous question papers with answers, etc. Vidya Niketan also provides regular school time class, evening classes, and weekend classes for the students of Class 10th and 12th according to their requirements. Therefore this special coaching enables you to pass the 10th class CBSE Exam in 2024 with high marks.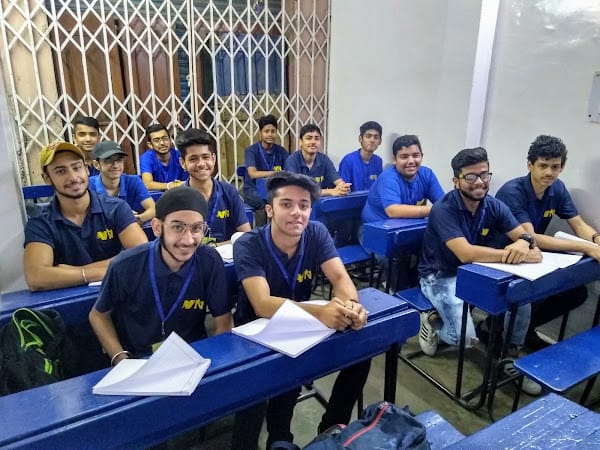 CBSE Patrachar Admission - Join Our CBSE Patrachar Regular Classes At Vidya Niketan, Ramesh Nagar And Ensure 100% Success In Exams.
Call Now + +91-9811894893 Or +91-9312758667
CBSE Patrachar vs. Regular CBSE
While CBSE Patrachar offers flexibility and an alternative route for education, it's important to understand the key differences between CBSE Patrachar and regular CBSE schooling:
Learning environment: Regular CBSE schooling follows a structured timetable and curriculum, with daily classroom sessions and fixed study hours. CBSE Patrachar, on the other hand, provides more flexibility in terms of study hours and allows students to learn at their own pace.
Interaction and support: Regular CBSE schooling involves daily interactions with teachers and peers, providing immediate guidance and support. In CBSE Patrachar, the interaction may be limited, but students can seek guidance through study materials, online resources, and occasional support classes.
Examination format: The examination format for CBSE Patrachar may vary slightly from regular CBSE. CBSE Patrachar exams typically assess the same subjects and syllabus as regular CBSE, but the examination centers and procedures may differ.
Choosing between CBSE Patrachar and regular CBSE depends on individual circumstances and preferences. If you require flexibility and have specific constraints that prevent regular schooling, CBSE Patrachar can be a suitable option.
CBSE Patrachar - Tips for Success in CBSE Patrachar
While pursuing education through CBSE Patrachar, consider the following tips to enhance your chances of success:
Effective time management: Create a study schedule and allocate dedicated time for each subject. Stick to the schedule and maintain consistency in your study routine.
Self-discipline and motivation: As CBSE Patrachar requires self-study, it's crucial to stay disciplined and motivated throughout your learning journey. Set goals, reward yourself for accomplishments, and stay focused on your educational objectives.
Seeking help and support: Don't hesitate to reach out for assistance when needed. Utilize online resources, reference books, and seek clarification from subject experts or teachers during support classes.
CBSE Patrachar - Common Misconceptions
CBSE Patrachar is sometimes surrounded by misconceptions. Let's address a few common doubts and myths:
Lower academic standards: There is a misconception that CBSE Patrachar exams are easier than regular CBSE exams. However, the syllabus and evaluation criteria for both are the same, ensuring that the standards are upheld.
Limited career options: Some believe that CBSE Patrachar limits career choices. On the contrary, CBSE Patrachar certification is recognized by colleges, universities, and employers, opening up a wide range of career opportunities.
Stigma and social acceptance: There may be concerns about societal acceptance of CBSE Patrachar. However, it's important to understand that CBSE Patrachar provides a legitimate and recognized education, and the certificate holds the same value as a regular CBSE certificate.
CBSE Patrachar offers a valuable pathway for education, and it's essential to dispel these misconceptions to make informed decisions.
(A) Those students who have passed / failed either in Class 9th or passed in class 8th (with one year gap) from a Govt. / Govt. Aided / recognized / CBSE board school or failed in class 10th are eligible for class 10th admission. OR Those students who have studied up to class 9th privately ( who has never gone to a school) can seek admission on the basis of affidavit.

(B) The candidate must have completed 14 years of age as on 31st March
(A) Those students (Male & Female) may seek admission directly to class 12th having at least one year gap after passing class 10th exams from any recognized / CBSE Board or failed in class 11th on the basis of original SLC / TC duly countersigned by Education Officer / Competent authority. OR Those students (Male & Female) who have passed 11th or its equivalent examination from recognized school / CBSE Board School.
(B) Students (Male & Female) who have failed in class 12th or equivalent examination from a recognized / CBSE Board are eligible for admission to class 12th.
Conclusion
CBSE Patrachar is an alternative option for individuals who couldn't pursue regular schooling. It provides flexibility, recognized certification, and opportunities for higher education. By following the eligibility criteria, applying for CBSE Patrachar, and utilizing effective study techniques, individuals can succeed in their educational pursuits. Remember, CBSE Patrachar is not a barrier but a stepping stone towards achieving your educational goals.
FAQs
What is the duration of CBSE Patrachar exams?
The CBSE Patrachar exams are conducted annually, usually in the month of March/April, and the duration of the exams varies depending on the subjects.
Can I switch from regular CBSE to CBSE Patrachar?
Yes, students who are currently enrolled in regular CBSE schools can switch to CBSE Patrachar if they meet the eligibility criteria and fulfill the required formalities.
Are there any scholarships available for CBSE Patrachar students?
Scholarships may be available for CBSE Patrachar students, depending on various factors such as merit, financial need, and specific scholarship programs. It is advisable to inquire about scholarship opportunities from the respective authorities.
Can CBSE Patrachar students apply for competitive exams?
Yes, CBSE Patrachar students are eligible to apply for various competitive exams such as engineering entrance exams, medical entrance exams, and other national-level competitive exams, provided they meet the eligibility criteria specified for each exam.
How long does it take to receive the CBSE Patrachar certificate?
The CBSE Patrachar certificate is typically issued within a few months after the completion of the CBSE Patrachar examinations. The exact time may vary, but the certificate is usually issued within three to six months from the declaration of results.
Now that you have gained a comprehensive understanding of CBSE Patrachar, its eligibility criteria, benefits, application process, and success stories, you can make an informed decision about your education. CBSE Patrachar offers flexibility, recognition, and opportunities for individuals who couldn't pursue regular schooling. Embrace the journey, stay dedicated, and unlock your potential through CBSE Patrachar.
Remember, education is a lifelong journey, and CBSE Patrachar serves as a stepping stone towards achieving your dreams and goals. Don't let any obstacles deter you from pursuing your education. With CBSE Patrachar, you have the opportunity to rewrite your academic story and create a brighter future.