NIOS Admission - A Flexible and Recognised Education Option
Vidya Niketan Open School started with a major aim of providing high-quality education to learners. After providing degree classes through IGNOU, Delhi University, the institution has come a long way with its objective. The institution always stands by its promise of helping students in gaining excellence. Another initiative in this motive is NIOS Admission.
Table of Contents
The National Institute of Open Schooling (NIOS) is a renowned board of education in India that provides flexible learning opportunities to students. Established by the Ministry of Education, Government of India, NIOS offers distance education programs for secondary and senior secondary levels. We will explore the features, benefits, and opportunities associated with the NIOS Admission.
NIOS Board - Flexibility in Education
One of the key features of the NIOS Board is its flexibility in education. It caters to a wide range of learners, including those who are unable to attend regular schools due to various reasons. NIOS admission allows students to study at their own pace, providing flexibility in terms of time, place, and choice of subjects. This flexibility enables learners to balance their education with other commitments, such as work or personal responsibilities.
NIOS Board - Recognition and Accreditation
NIOS is a recognized and accredited board of education by the Government of India. The certificates issued by NIOS are equivalent to those provided by other recognized boards, such as CBSE or ICSE. NIOS certificates are accepted for higher education, competitive exams, and employment opportunities both within India and internationally. The board follows the National Curriculum Framework, ensuring that students receive a quality education that aligns with national standards.
NIOS Board - NIOS Curriculum and Course Offerings
NIOS offers a wide range of subjects at the secondary and senior secondary levels, allowing students to choose subjects based on their interests and career aspirations. The curriculum is designed to provide a holistic education, including academic subjects, vocational courses, and skill development programs. NIOS also provides study materials, textbooks, and online resources to support self-study and independent learning.
NIOS Board - Examination System
NIOS conducts examinations twice a year - in April-May and October-November. The examinations are conducted in various regional centers across India and also in overseas centers for international students. The examination pattern includes theory papers, practical assessments, and assignments. NIOS provides a fair and transparent evaluation process, ensuring that students' performances are accurately assessed.
NIOS Board - Support Services
NIOS offers a range of support services to assist students in their academic journey. These services include study centers, academic counselors, online tutorials, and helpline support. Students can access these services to seek guidance, clarify doubts, and receive assistance in their studies. NIOS also provides opportunities for personal contact programs and practical training in select subjects.
With the facility to get the education through open school or distant learning program, students can easily complete their education and get the certificate to continue their further education journey for a bright future ahead.
Vidya Niketan Open School plays the role of bridging the gap between the students and their education certificates by providing them with the right mode of guidance towards their admission process into the respective standards. We guide the students with a positive approach to get back to their education life even after receiving a failure in their previous attempt or faced a drop-out scene due to any of the reason.
We fully support NIOS private learning method that is designed to uplift the students and create confidence in them to complete their required education through the platform, we provide to them. We take on complete responsibility to get the students admission in their courses.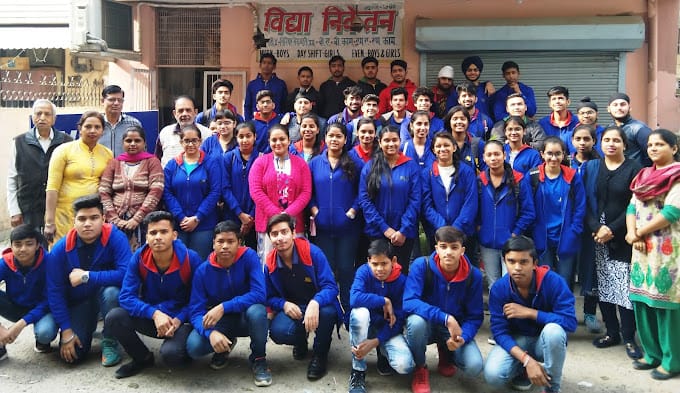 NIOS Board - Online NIOS Admission
NIOS online admission is another facility provided by the institution for convenience. The NIOS online admission form is released for the current year by NIOS. Learners interested in pursuing 10 and 12 can apply for NIOS online admission before the last date expires. New learners interested in NIOS admission through stream 1 in block 1 and block 2 can also apply for the public exam provided they fulfill all the necessary criteria's. For NIOS online admission the candidate needs to perform the task of NIOS admission form download from the authorized site of NIOS.
For NIOS online admission there are 4 different streams. The candidate can opt for only one of them. Thus after selection of stream candidate must complete the procedure of NIOS online admission.
The complete procedure of NIOS online admission is:
Candidate should first logon to www.nios.ac.in.
The NIOS online admission information must be duly filled by the candidate.
Pay the fees. After fee payment, the details of submission is displayed.
The candidate now registers himself by submitting his email-id and password.
The candidate should now fill the NIOS online admission form. The required photograph must be attached.
Candidate must provide an accurate postal address. This is required for delivery of I-card, self-learning material and any other document by NIOS.
NIOS Board - Exam Fees for NIOS Admission
The exams for NIOS admissions are conducted twice a year. The months of exams are generally April-May and October-November. The dates of exam for NIOS admission are fixed by NIOS. In addition, you can appear for NIOS admission on demand. This is true only for subjects for which you are already admitted in NIOS. NIOS admission on demand is at the secondary and senior secondary level.
The fees for NIOS admission is Rs. 250 for every individual subject. For enrollment in practical's additional fees of Rs. 120 is added up. During online admission the figures may vary depending upon the selected stream.
The candidates are required to pay the fees online. They can do so through a master card, credit card, visa or debit card. For offline mode, they can pay through Bank draft of any nationalized bank of India. The bank draft may be in the name of a chosen regional center.
NIOS Board - Eligibility for NIOS admission
For applying for NIOS admission the candidate must fulfill all the necessary criteria's. Only eligible candidates are allowed to appear for the examination.
Criteria for NIOS admission at secondary level:
Minimum Age of candidate must be 14 years. He/she must have the age proof.
The candidate must have the proof which states that he/she has qualified his VIII.
A candidate providing the proof of his excellence required for secondary can also apply.
Earlier if the candidate was not able to complete his secondary education can also apply.
A candidate intending to improve his performance in secondary level can also apply.
Criteria for NIOS admission at Senior Secondary level:
12th fail candidates must provide the proof of successful completion of 10th class from a recognized board.
Minimum Age of candidate must be 15 years. He/she must have the age proof.
The candidate must have proof stating his 10 qualifications from a recognized board.
NIOS Board - NIOS admission procedure
For NIOS admission each candidate is required to complete the admission procedure. Have a look at the process:
Open up the NIOS website.
Next step is to click on the "Register Option".
Carefully read all the instructions provided. Once completed, click on proceed.
Choose your state.
Select the identified type. This could be your Aadhar card, Ration Card, passport or any identity which is valid.
According to the selected identity type, provide the required number for it.
Choose the desired course. After selection press the submit button.
The NIOS admission application form will appear.
The NIOS admission form is divided into 4 categories. These are your basic details, your optional details, the subject selection, and the center selection.
Accurately fill all the details in all the 4 categories.
Pay your fees according to your convenience. Choose an appropriate payment gateway.
NIOS Board - The positive side of NIOS admission
NIOS admission has been fruitful for many learners. Let's know the answer to the question why so?
NIOS provides life enrichment programs.
It provides complete autonomy to candidates in choosing the subjects. Thus the candidate learns only those subjects where his interest lies.
The system continuously assesses the candidate performance through Tutor Marked Assignments.
The candidate is given 9 chances to clear a course within 5 years. After 5 years he can apply for admission again.
Personal Contact Program facilitates great learning.
The candidate can transfer the subject credits from another board. This is allowed for a maximum of 2 subjects.
Self-instructional printed material is provided. Audio-video programs are also available.
Learners are also provided with open learning magazine. It is provided on a half-yearly basis.
It is strengthening the open schooling at the national and global level. It assures the exchange of quality education for the betterment of learners.
It strives to develop an effective learner support system. To some extent, it is successful in doing so.
NIOS Board - Cancellation of NIOS admission
The procedure for NIOS admission is quite simple. But sometimes the application or admission gets rejected. Once the application is canceled, it is not considered again. This may be because of the following causes:
The NIOS admission form is found incomplete.
The candidate fails to submit the NIOS admission form before the last date.
The required fee is not paid in full.
The attached documents with NIOS admission form are not complete.
The attached documents with NIOS admission form lacks authenticity.
The educational qualifications of the candidate are not sufficient.
The age requirement is not fulfilled.
Any of the eligibility criteria is not fulfilled.
NIOS admission form lacks address proof.
Conclusion
The NIOS Board provides a flexible and recognized education option for learners who require an alternative to traditional schooling. With its focus on flexibility, recognition, and comprehensive curriculum, NIOS offers students the opportunity to complete their education and pursue their career goals. Whether it is for individuals who could not continue regular schooling or those seeking to enhance their knowledge and skills, NIOS stands as a reliable platform for achieving academic success.
FAQs
Can I pursue higher education after completing education from NIOS?
Yes, NIOS certificates are recognized by colleges, universities, and other higher education institutions. You can apply for admission to undergraduate or postgraduate programs based on your NIOS certificate.

Can I appear for competitive exams after completing education from NIOS?
Yes, NIOS students are eligible to appear for various competitive exams, including engineering entrance exams, medical entrance exams, and civil services exams. It is important to check the eligibility criteria specific to each exam.

How can I enroll in NIOS?
To enroll in NIOS, you can visit the official NIOS website and follow the guidelines provided for registration. Alternatively, you can contact the nearest NIOS regional center for assistance and guidance regarding the enrollment process.

Is the NIOS curriculum recognized internationally?
While NIOS is primarily recognized within India, its curriculum and certificates are also accepted in some international educational institutions. It is advisable to check the specific recognition policies of the institutions or countries you are interested in.

Can I switch from a regular school to NIOS in the middle of the academic year?
Yes, NIOS allows students to switch from regular schools to their system in the middle of the academic year. However, it is recommended to consult with the respective schools and NIOS authorities to ensure a smooth transition and continuity of studies.

Does NIOS offer vocational courses?
Yes, NIOS provides a range of vocational courses that equip students with practical skills and enhance their employability. These courses cover diverse fields such as computer science, hospitality, fashion designing, and more.

Can I apply for NIOS if I have previously dropped out of school?
Yes, NIOS offers a second chance to individuals who have dropped out of school. Whether you have discontinued your studies in the past or have gaps in your education, NIOS allows you to resume your studies and complete your education.
In conclusion, the NIOS Board provides a flexible, recognized, and inclusive education option for individuals who seek an alternative to traditional schooling. With its emphasis on flexibility, comprehensive curriculum, recognized certificates, and support services, NIOS enables learners to achieve their educational goals and fulfill their aspirations. Consider exploring the opportunities offered by NIOS to embark on a successful educational journey.