CBSE Private vs. CBSE Patrachar: Choosing the Right Path with Vidya Niketan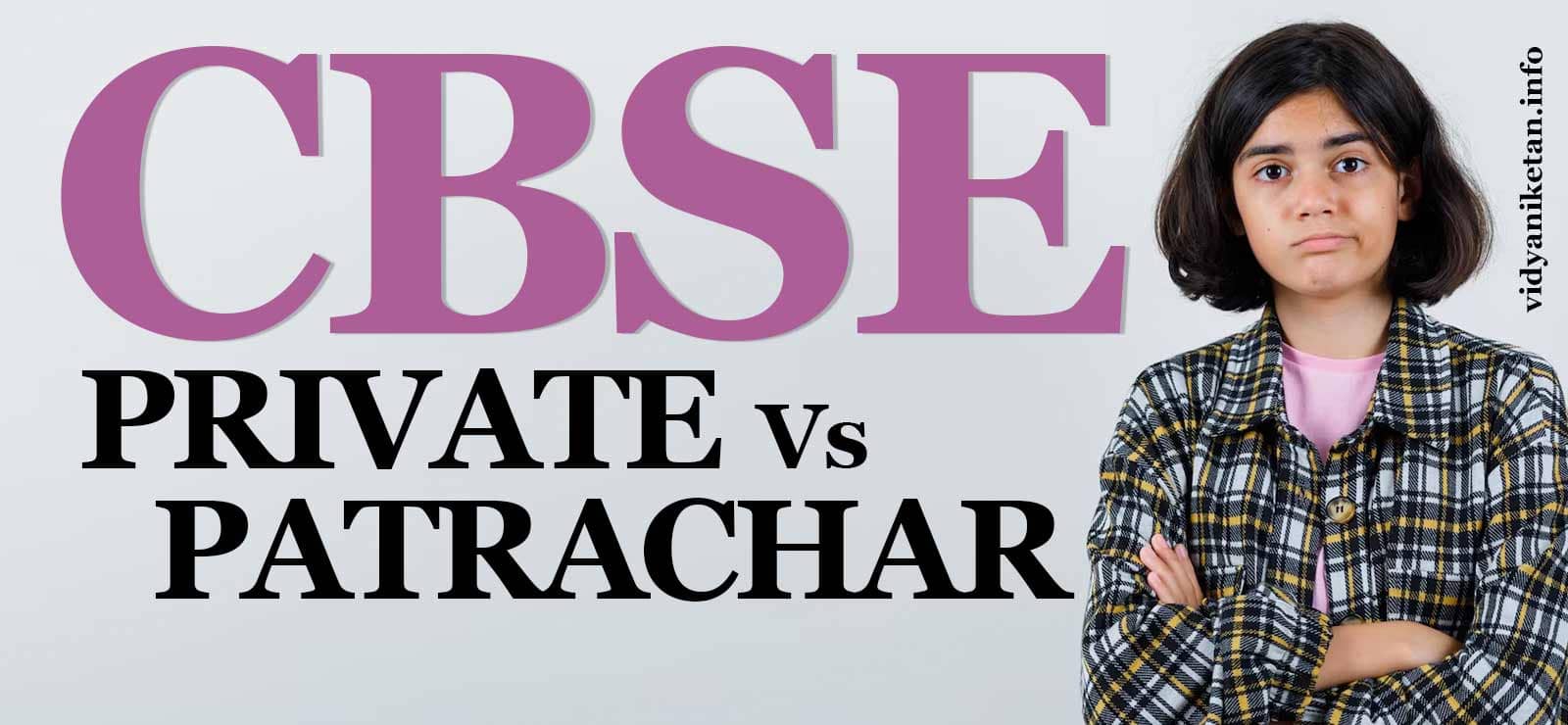 Education is the foundation upon which a nation's future is built. In India, the Central Board of Secondary Education (CBSE) is one of the most prominent educational boards, providing quality education to millions of students across the country. However, not all students follow the conventional path of attending regular CBSE-affiliated schools. Some students may opt for alternative routes, such as CBSE Private or CBSE Patrachar, offered by Vidya Niketan. In this blog, we will delve into the differences between these two options and understand how they cater to unique needs.
CBSE Private refers to a special provision offered by the CBSE for students who are not enrolled in any regular CBSE-affiliated school but still want to appear for the CBSE board examinations. These private candidates might be homeschoolers, students reappearing for exams, or those who have studied independently without attending a traditional school. Vidya Niketan, as an educational institution, plays a significant role in guiding and assisting these candidates through the process.
One of the primary advantages of CBSE Private is the flexibility it provides. Students can pursue their studies at their own pace and convenience. They can register directly with the CBSE and take the board exams without the need to attend regular school classes. This option proves beneficial for individuals with unique circumstances or personal reasons that prevent them from attending conventional schools.
On the other hand, CBSE Patrachar is an exclusive educational initiative managed by the Directorate of Education, Government of National Capital Territory (NCT) of Delhi. It caters specifically to students who have dropped out of formal schooling or those who wish to pursue their education through the open schooling system. Vidya Niketan provides support to students in Delhi who choose this path.
The Patrachar Vidyalaya allows students who have passed the 8th or 9th standard to appear for the CBSE Class X exams as fresh candidates. Similarly, students who have failed in Class XI or have taken a gap year after Class X can apply for the Class XII exams. These students can apply directly for the exams based on an affidavit, and in the case of Class XII, they need to provide the necessary documents like the School Leaving Certificate (SLC) and previous school report card.
Key Differences
Mark Sheet: For Patrachar students, the mark sheet is issued by the CBSE, but it carries the name of Patrachar Vidyalaya. In contrast, the mark sheet of CBSE Private candidates mentions "Private Candidate" as the school name.
Practical Examinations: Patrachar Vidyalaya conducts all practical examinations for its students. On the other hand, CBSE Private candidates are allowed to take practical exams only in certain subjects, and marks for subjects without practical exams are calculated using a predetermined formula, though they are not reflected on the mark sheet.
Attendance and Classes: Patrachar Vidyalaya students are required to attend compulsory classes conducted by the institution, and a minimum attendance of 75% is necessary. These classes also include assessments like the Assessment of Speaking and Listening (ASL). CBSE Private candidates, on the other hand, do not have to attend such classes and can directly appear for the final board exams.
Eligibility and Region: Patrachar Vidyalaya is specifically for students in Delhi, while CBSE Private is available for students in the NCT region.
Making the Right Choice
Choosing between CBSE Private and CBSE Patrachar depends on individual circumstances, goals, and preferences. Students who are already enrolled in regular schools may find CBSE Private more suitable if they want to reappear for exams or improve their grades. On the other hand, Patrachar Vidyalaya provides a lifeline for those who had to discontinue their formal education and are looking for a second chance.
Vidya Niketan plays a crucial role in guiding students through the registration process, providing study materials, and offering support throughout the academic journey. As a reputable institution, Vidya Niketan helps students make informed decisions about their education, considering their unique requirements and goals.
Conclusion
In the diverse landscape of education, CBSE Private and CBSE Patrachar offered through Vidya Niketan provide alternative paths for students who wish to pursue their studies independently or have faced challenges in the conventional educational system. Both options have their merits and cater to different needs. By understanding the key differences between CBSE Private and CBSE Patrachar, students can make informed choices and embark on a successful academic journey tailored to their specific circumstances.